Kenosha County Cheesehead Limousine: Where We Specialize in "SURPRISE!"
They say the best things in life aren't things... What better way to toast happy occasions then by sharing experiences with those people special to you.
Planning an amazing surprise party can be quite a daunting task!  Whether it's for your significant other's new job or your child's Sweet 16 renting a Kenosha County Cheesehead Limousine limousine or party bus can quickly turn your get-together from special to extraordinary!
Once you take on the mission of party planning, you'll find that renting a limousine can easily take the liability of driving and parking off your To Do list, so you too can enjoy the day with friends. Best of all, everyone gets there at the on time!
Our limousines will safely transport you and your family in the most stylish fashion. Kenosha County Cheesehead Limousine 6- passenger Lincoln limos have leather bench seating and a moon roof. Our 8- to 10- passenger limos have leather "J" seating. All of our stretch limousines have solid- and clear-colored window dividers. Kenosha County Cheesehead Limousine party buses will hold up to 15 of your favorite family members.
Don't forget to check out the videos of our party buses.
Tips for planning an awesome surprise outing:
Always be sure to keep in mind what the guest of honor would enjoy,
Always check with the businesses you plan to visit ahead of time to verify your party can be accommodated on the day and time of your arrival, and
Always check the weather and have a Plan B!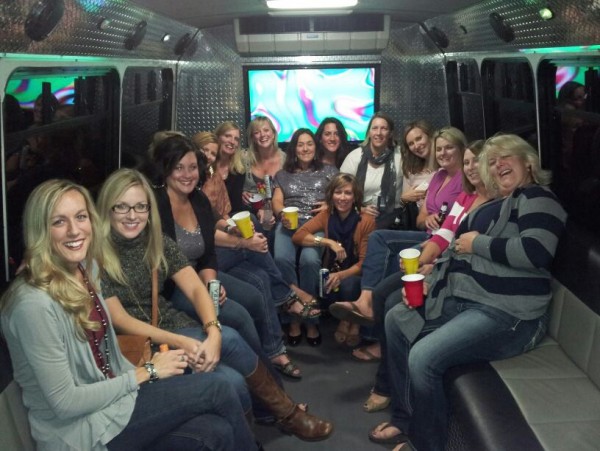 Feel free to bring your own music for the ride! Kenosha County Cheesehead Limousine limousines and buses have surround sound speakers, CD players and stereo connections for iPods, iPhones and MP3 players, along with televisions and color changing fiber-optic lighting inside the passenger seating area. Our limos and buses feature ice chests with complimentary ice and all of our limo bars are BYOB and BYOC – bring your own cake – to commemorate the day.
However, please leave the candles at home!
Ten popular ideas for exploring Southeast Wisconsin:
Take a tour of our local breweries
Take a tour of our countryside wineries
SUMMERFEST
Milwaukee Museum Mile
Picnicking in our beautiful parks, such as Lakeshore State Park, Greenfield Park, North Point Lighthouse, to name a few.
Brunch at one the popular spots in Milwaukee: Café LuLu in Bay View, Blue Egg in Wauwatosa, or Build-a-Breakfast Build-a-Burger in West Town.
Dinning with the best waterfront views, as suggested via Yelp, are Water Buffalo in Historic Third Ward, Harbor House in East Town, or Wolf Peach in Brewer's Hill.
Dancing and/or live music can be found at the local bars, perhaps Buckhead Saloon or Lucille's Piano Bar, both in Westown, or Bad Genie Rock Lounge, located in East Town.
See a show performed at one of our theater, like Milwaukee Repertory Theater or Overture Center for the Arts in Madison.
Take a leisurely drive down the most rustic scenic roads of Southeast Wisconsin.
Or, ask one of our knowledgeable drivers for more suggestions.
Our 5-, 7-, 9-, 12-hour special rates are perfect for just these types of occasions. The rates include transportation to your requested destination(s) via stretch limousine or party bus. Each Kenosha County Cheesehead Limousine chauffeur will be in tuxedo attire. Our stretch limousine have a red rollout carpet for special occasions. The clock starts at first pickup and ends at last drop-off, with no travel or fuel surcharges. So book in advance by contacting Jesse today for rates and reservations at 414-688-5216, or visit us online at www.cheeseheadlimo.com.
Whenever the season, whatever the reason, our knowledgeable chauffeurs at Kenosha County Cheesehead Limo are ready to take you and your family to your desired destinations.
Happy party planning!
PS  Be sure to check us out on Facebook.