Sheboygan County Wedding Transportation with Cheesehead Limousine
A Red Carpet Service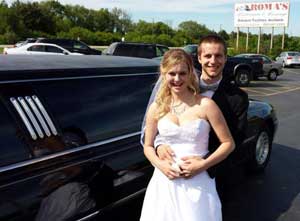 One of the most important details of planning your wedding in is to designate a professional to handle the transportation of two very vital people­—the bride and the groom. On your important day, let Cheesehead Limo serving Sheboygan County take the driver's seat. Our Cheesehead limo will transport the entire bridal party to the your vows on time!
On the day of the wedding, the bride and groom will want to arrive in style and comfort. Our drivers are always in full tuxedo for weddings! Our six passenger Lincoln limousine have leather bench seating and a moon roof, and our eight to ten passenger limousines have leather "J" seating with surround sound speakers. All of our stretch limousines have solid- and clear-colored window dividers and the Red Carpet roll out (buses excluded) so you arrive to your Sheboygan County wedding in style.
The Sheboygan County Cheesehead Limousine party buses hold 15 people, making it possible for the entire wedding party to walk out of our buses without a wrinkle!
Don't let the celebration and adult beverages stop just because you're being driven to and from destinations! Our limousines and limousines buses feature televisions, bring-your-own bars, and ice chests with complimentary ice. In each Sheboygan County Cheesehead Limousine, we have CD players and stereo connections for iPods, iPhones, and MP3 players, along with color changing fiber-optic lighting inside the passenger seating area. So, feel free to bring your own beverages and your own tunes to enhance your ride.
Check out the videos of our party buses!
http://www.youtube.com/user/milwaukeelimo/videos
Let our impeccable wedding limo transportation take the entire wedding party to the wedding ceremony, to the reception, and everywhere in between! After the ceremony, the entire bridal party may be on the move to a gorgeous place perfect for capturing the best wedding photos, such as North Point Lighthouse. With Sheboygan County Cheesehead Limo, the bride and groom could be strolling down the Red Carpet if one of our 6-, 8-, or 10- passenger limousines is reserved. The Red Carpet is always a creative addition for any wedding album!
In between all the picture taking and the reception where you will be greeting your guests once more, Sheboygan County Cheesehead Limousine can make any unique local stops for the bridal party. Your agenda is our agenda! The bridal party may want to pass some time at a favorite place on Water Street. Whether your wedding reception is at The Wisconsin Club's Country Club or the Silver Spring Country Club, we will safely transport the bride, the groom, and the entire wedding party wherever the day is intended to take you!
Do you have friends and family coming in from out of town, or from out of state? Our Sheboygan County Cheesehead Limo can also be reserved as an all-night shuttle to and from the hotels for friends and family.
Sheboygan County Cheesehead Limousine is tried and true when it comes to professional wedding transportation. Just let the thousands of satisfied wedding parties speak for themselves! Contact Jesse today for rates and reservations at 414-688-5216, or visit us online at www.cheeseheadlimo.com.