Cheesehead Limousine: An Investment in Safety for Your Prom Night
As prom night is quickly approaching, there is an air of anticipation within the halls of high schools across the state. Your friends are beginning to dream up plans for that weekend. You're saving up your allowance to purchase your tickets. You've been to every local and not-so-local mall every weekend in order to find that perfect outfit for you, and the perfect shoes to match! But, have you thought about how you're getting there?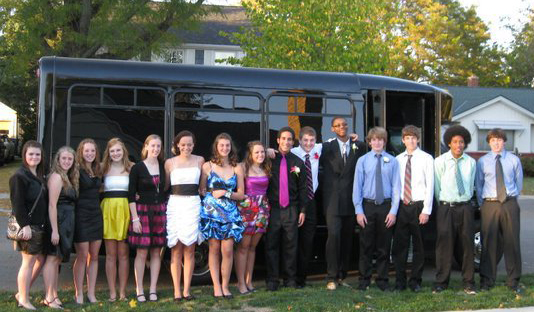 Hiring a limo as prom transportation will ensure three important staples for the night that teens and their parents can actually agree upon:
Safety

Affordability

and Fun!
Your prom night does not have to break the bank!
While no one can put a price on safety, hiring a limousine is a very smart investment for your prom night. Splitting the rental price with your date can make renting a limo easily affordable! As the premier limo bus service in Milwaukee and Southeast Wisconsin, Waukesha County Cheesehead Limousine has a fleet of 6-, 8-, 10-passenger stretch limousines and 15-passenger party bus limousines. And why not a party bus!? The party bus option will ensure that you and 14 of your best friends arrive to the dance safely, in style, and still have dollars to burn.
A Split the Price Scenario:
You + forteen of your closest friends + Waukesha County Cheesehead party bus for 5 hours = $550 (tax included). Adding in a 20% gratuity for your chauffeur, the amount is less than $45 per person!


Also, if you're renting Waukesha County Cheesehead party bus for less time, say for three hours, then that total price will be less than $20 per person. (Click here for more rates.)


Whether it's a stretch limo or party bus, it will be an absolutely wonderful addition to your photos!
Listen to the songs that makes YOU happy!
You provide the music, and Waukesha County Cheesehead chauffeurs will hook you up. Just bring along your iPods, iPhones, MP3 players, or just some CDs! Waukesha County Cheesehead Limo limousines and party buses have surround sound speakers, connectors, and CD players. Each limo has with TV and cool color changing fiber-optic lighting inside the passenger seating area. Click here to check out our party bus videos.

#1 is safety, always!
The typical prom attendees are high school seniors as well as being newbie drivers. Driving a 4,000 pound vehicle can be risky venture, and newbie drivers are always learning each time they command a vehicle. Learning to drive is a thrilling experience in life, but this responsibility should never be taken lightly. "Stats show that sixteen and seventeen-year-old driver death rates increase with each additional passenger. Of deadly crashes, 82% of them are caused by drunk drivers. Vehicle crashes are the leading cause of death for teens, and about a quarter involve an underage drinking driver." (Sources: U.S. Drunk Driving Statistics; Do Something.Org; Zero In Wisconsin.) While stats like these may have never crossed your mind until now, you can be certain that these have crossed the minds of your guardians.
At Waukesha County Cheesehead Limousine, our responsible chauffeurs are ready to drive you to and from one of the most significant events of your young lives—be it the prom, homecoming, or graduation. Providing safe transportation since 1995, Waukesha County Cheesehead Limo vehicles and staff are properly licensed and insured as per the specific standards set by the state of Wisconsin's transit authority.
Renting a limousine for prom transportation is safe, fun, and it sure beats driving yourself or having a mom or dad take you. Limousines are in high demand for prom season, so it is strongly suggested that you schedule yours in advance. For Waukesha County Cheesehead Limo for rates and reservations, contact Jesse today at 414-688-5216, or visit us online at www.cheeseheadlimo.com.